All Are Welcome at
St. Mark's Shelby
Worship with us every Sunday at 10:00 a.m.
New Here?
Thank you for visiting this site; we hope you will visit in person. We descend from the first followers of Jesus through the English Church (see "About Us"). God has gifted St. Mark's to be a community of study, giving, and attention to youth.
Study usually follows worship, though twice a year we also have Wednesday evening gatherings. Our topics recently have been Prayer, Revelation, Galatians, Spiritual Gifts, "Experiencing God," Suffering, Race and Faith, Loving God, and the Parables of Jesus. We are proud of having 5 excellent preachers who all give us different voices through whom to hear God. Find three here – Kelleah, Kathleen or Fr. Daniel. See also videos from "Soul Tending: Pandemic as Portal" retreat (5 min intro) which St. Mark's initiated (full playlist).
Our giving takes shape in the form of Old Spokes, and gifts from the church. St. Mark's gives 10% of our operating income to needs in our community and world, including Helpline, Domestic Violence Shelter, and FISH. The Champion Fund (money left to St. Mark's by a non-member, Paul D. Champion) St. Mark's stewards for charitable gifts of about $40,000 each year. These gifts include three scholarships each year to Shelby High School seniors for college, purchase of 4H poultry for FISH and Grace food pantries, disaster response, health and other needs.
If you need more clarity and less clutter in your life, we hope you will visit us, the grey church across from the Post Office in Shelby Ohio.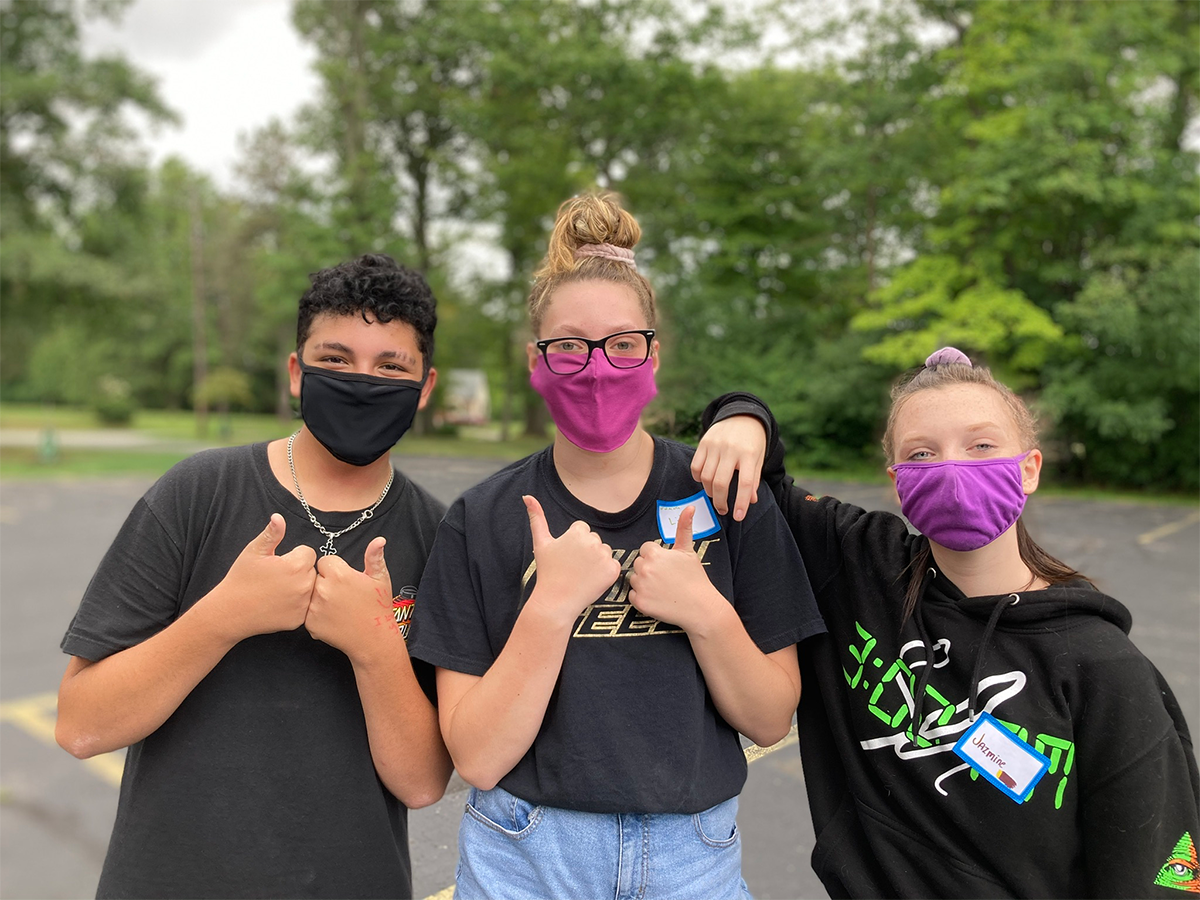 Youth

are not a separate group in our church. We consider children essential in worship, study and fellowship. Young people are segregated enough in other areas of their lives. We hope to learn from them and vice versa. Highlights from the past several years are a pilgrimage to Belize, a senior project of an indoor play structure [photo], and multiple Youth events each year across North Ohio.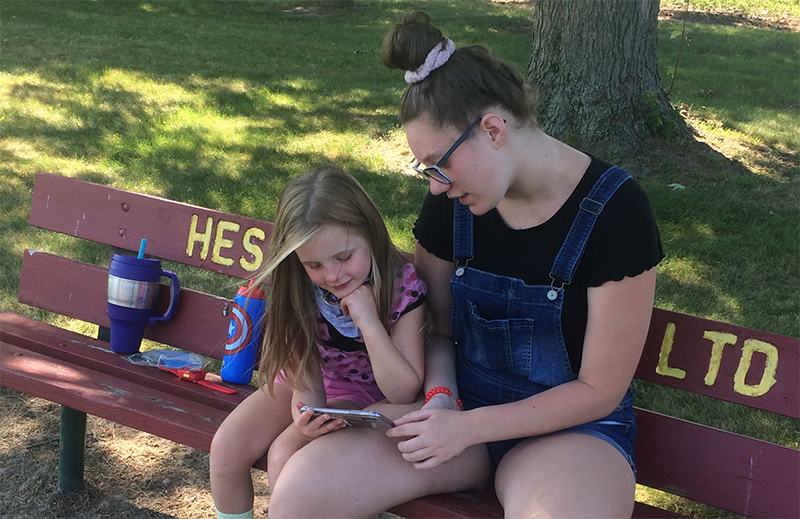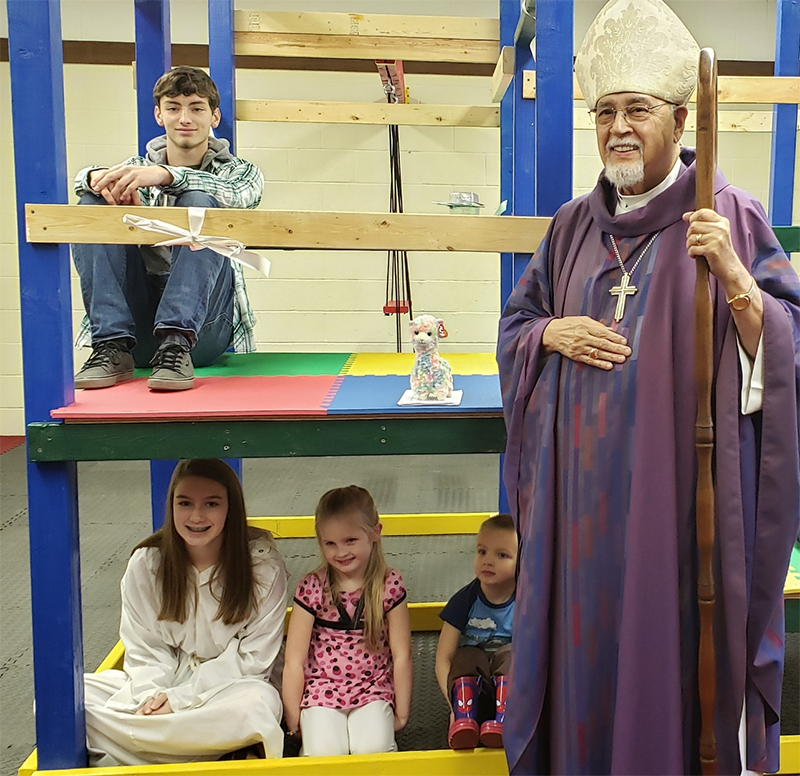 St Mark's was founded in 1892. We have two members, sisters who are 97 and 100 years old. Their mother left England when the Titanic was docked. The parish has been marked by an English temperament for decades. In the last forty years it has developed strong lay leadership, practiced extravagant generosity, and raised many people for active ministry, including a young man in Ashland Seminary, four lay preachers, and many active teachers. We also "host" a weekly silent prayer group on Zoom Tuesday mornings at 9 am.
In the early 20th century the church swapped locations with Shelby's hospital which occupied the corner location. The former hospital still stands and is cared for by St. Mark's. The top floor is subsidized housing for college students who want to stay connected with their faith and their community. The lower floor (formerly an insurance office) has given refuge to a hurricane victim and currently to a young couple and their first baby.
St. Mark's delights in being a small church with little bureaucracy, so that we can follow God's lead to build a corner of God's Kingdom.

It took a woman to hold together the only major church of reformation era Europe not to enter the Thirty Years War. Queen Elizabeth I held her personal religious beliefs close to her chest and left room for others to do the same. She kept the English Church from entering the religious wars that engulfed Europe for decades. She is reported to have declared, "we will not make windows into men's souls." Out of the broad embrace of the English church came dozens of denominations including our closest cousins the Methodists, but also near cousins, the Presbyterians. Congregationals, Shakers, Quakers, and Baptists also owe much to the English ability to hold together in essentials. (The English church and monarchs were not always compassionate towards those breaking away, but there was room non-the-less.) The Episcopal church holds to St Augustine's words,
"In essentials, unity; in non-essentials, liberty; in all things, charity."
Community-Driven
Outreach
St. Mark's made a commitment in 20?? to give 10% of their operating budget to needs in the community. That commitment may have been honored by God. A bachelor farmer who never attended St. Mark's left money in his will to the church. His only connection was that his mother had attended. The church recognized God's hand on the gift for outreach and has been actively seeking where God needs funding for God's work.
If you have a need or know of a need, please let us know by calling 419 247-7701.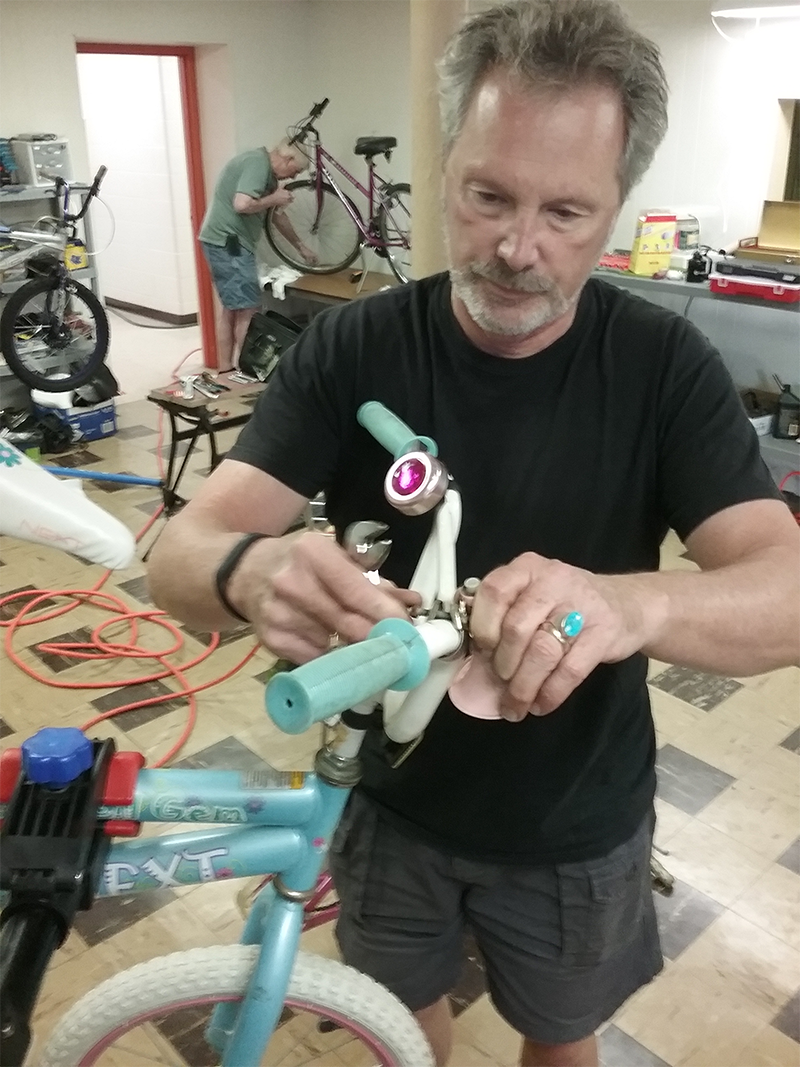 For almost 10 years...
…a group of retired riders has gathered weekly to ride bicycle trails across Ohio. For seven years they have hauled in bicycles from local police departments and other donors, fixed them in St Mark's basement, and provided them to the Shelby Community Christmas Program.

Over 400 young riders...
…have received bicycles because of the Old Spokes who reuse and repair everything they can, then recycle the rest. Funds for tubes, tires, pedals, etc. come from recycling, the First Presbyterian church, St. Mark's, and generous others. Local Mennonite bike shops give discounted prices to the ministry and occasionally fix an issue that the "Spokes" can't fix.

The Old Spokes...
…have contributed over 60 bicycles each year on average, over 400 bicycles. But they also give away bicycles to people in need of transportation.

Connect with them
Most Monday mornings at Ted and Ali's, 9:30 am. Or you can leave a message at 419 347-7701.
Address
31 N Gamble St.
Shelby, OH 44875-1201
Email
stmarks31@centurylink.net
Monday – Friday
10:00 AM to 06:00 PM